The Baird Institute runs and participates in many clinical trials. We also contribute to the Australian & New Zealand Society of Cardiac & Thoracic Surgery Database through their partnership with Royal Prince Alfred Hospital.
Our current clinical trials, previous trials and those planned for 2017 are listed at the end of this page.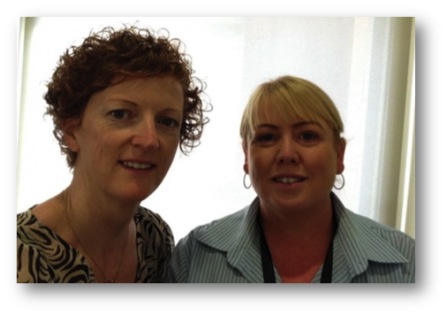 Lisa Turner (right) and Lorna Beattie have over 30 years experience between them.
Lisa has been working in cardiovascular research since 2004.  She is the Cardiovascular Research Clinical Nurse Consultant (CNC) at Royal Prince Alfred Hospital (RPAH). Lorna joined The Baird Institute team two years ago and works alongside Lisa as the Clinical Trials Nurse Specialist (CNS). They have over 30 years cardiothoracic and vascular surgery nursing experience between them. Such experience has equipped them with the essential skills required to manage the many and varied Cardiovascular Clinical Trials and associated databases.
COMMUNICATION
One of the most important aspects of Lisa and Lorna's job is communication, both with and between the patients, staff and medical teams. They are passionate about ensuring patients are well informed about the various research projects relating to their particular surgery. As well. they are given the opportunity to choose to participate in the associated research.
EDUCATION
Education also forms a large part of what Lisa and Lorna do; educating staff on study protocol and ensuring the study teams have a high level of protocol completion and adherence. They also manage patient and staff education in regards to each trial.
CO-ORDINATION
All logistics relating to the trials, are also managed by Lisa and Lorna.  Their tasks include managing the screening, recruitment, data collection and ethics reporting for the trials, ensuring all patient follow-up as well as updating the associated databases for the clinical trials conducted through The Baird Institute and RPA.
Along with all of the above, they find time to assist medical students with MD projects through the University of Sydney.
SUPPORT THE BAIRD
You can support The Baird Institute by making a once-off donation, leaving a bequest, volunteering time or services, or become a partner providing ongoing support.
Current Clinical Trials and Registries
Cardiothoracic Surgery
Thoracic Aortic Surgery database and Tissue Bank
Myectomy surgery Tissue Bank
IRAD – International registry Aortic Dissection
The Arch Project – International Aortic Arch Surgery registry
Australian New Zealand society of Cardiothoracic Surgeons database – quarterly contribution and reports
Cardiac Surgery Costing Study – HPA and Baxter
VISION – Vascular events in surgery patient's cohort evaluation – cardiac surgery
ON – X – On-X Heart Valve Study
ROBOCAB – Robotic-Assisted Coronary Artery Bypass Grafting (RoboCAB) Study
CLIP – Cryopreserved vs. Liquid Platelets for Surgical Bleeding
TRICS III – Transfusion requirements in cardiac surgery – An international, multi center, randomised controlled trial to assess transfusion thresholds in patients undergoing cardiac surgery
Vascular Surgery
INPACT – Medtronic Drug eluting balloon
GREAT – W.L Gore endovascular device registry for treatment of aortic aneurysms
ENGAGE – Medtronic endovascular device registry for the treatment of aortic aneurysms
SHIELD – A Multicenter, Parallel, Blinded, Randomized Comparison of the Safety and Efficacy of Balloon Angioplasty Plus Intraluminal SBCV To Balloon Angioplasty Alone for Treatment of Stenosis or Occlusion within the Femoro-popliteal Artery
VERNACULAR – : The BARD®VENOVO™ Stent Study – A Prospective, Non-Randomized, Multi-Center, Single-Arm Study of the Treatment of Iliofemoral Occlusive Disease – an Assessment for Effectiveness and Safety
Trials to Commence in 2017
Cardiothoracic Surgery
CO POC – Colchicine for the prevention of Peri operative complications
Vascular Surgery
Lutonix BTK – A Prospective, Multicenter, Single Blind, Randomized, Controlled Trial Comparing the Lutonix Drug Coated Balloon vs. Standard Angioplasty for Treatment of Below-the-Knee (BTK) Arteries.
Clinical Trials and Registries Completed in 2017
MAJESTIC – Boston Scientific Drug eluting stent
Previous Clinical Trials and Registries
ATACAS – Aspirin and Tranexamic acid clinical trial
CORONARY – ON pump versus Off pump CABG randomised trial
EVERREST – Ethicon Fibrin sealant patch clinical trial
PINBALL – Prophylactic Intra-aortic balloon counterpulsation in High risk cardiac surgery – an inception cohort study.
PAINLESS – Redefining Pain Management after Cardiac Surgery to Improve Intensive Care and Hospital Length of Stay: a randomised pilot phase trial
Warfarin SMART – INR /Warfarin Anticoagulation Patient Self Management (PSM) Study
MITROFLOW – Sorin Mitroflow Aortic valve registry
Heart failure Surgery database- Multidisciplinary approaches to the management of heart failure: clinician survey and development of a clinical algorithm"
NOVEL – "The Novate Inferior Vena Cava Filter First In Man, The NOVEL Clinical Study"
SAMURAI – ImageReady™ MR Conditional Pacing System (SAMURAI Clinical Study)"
OTHER RESOURCES
PHONE +61 2 9550 2350
EMAIL info@bairdinstitute.org.au
Suite 305, 100 Carillon Ave
NEWTOWN  NSW  2042