The Baird Institute recognises the pivotal role nurses have in caring for and supporting the patient and their family through the surgical journey. Surgeons, researchers of The Baird Institute and expert nurses from across public and private hospitals will provide their expertise to the Heart & Lung Nurses Education Conference; making the event a 'must attend' program, enhancing the knowledge, care and networking opportunities for heart and lung surgical nurses in the Perioperative, Critical Care and Ward environments.
Nurses Webinar: Aortic Surgery - Friday 23 July 2021
A webinar presented by RPA Institute of Academic Surgery and The Baird Institute.
Aimed at CICU theatres and ward nurses and junior doctors, this webinar is designed to give an insight into patients undergoing aortic surgery.
When:
Friday 23 July – 10:00am to 11:30am
Presenter:
Professor Paul Bannon
Head of Department – Cardiothoracic Surgery RPAH
Bosch Professor of Surgery, University of Sydney
Chair, The Baird Institute, Co-Chair RPA IAS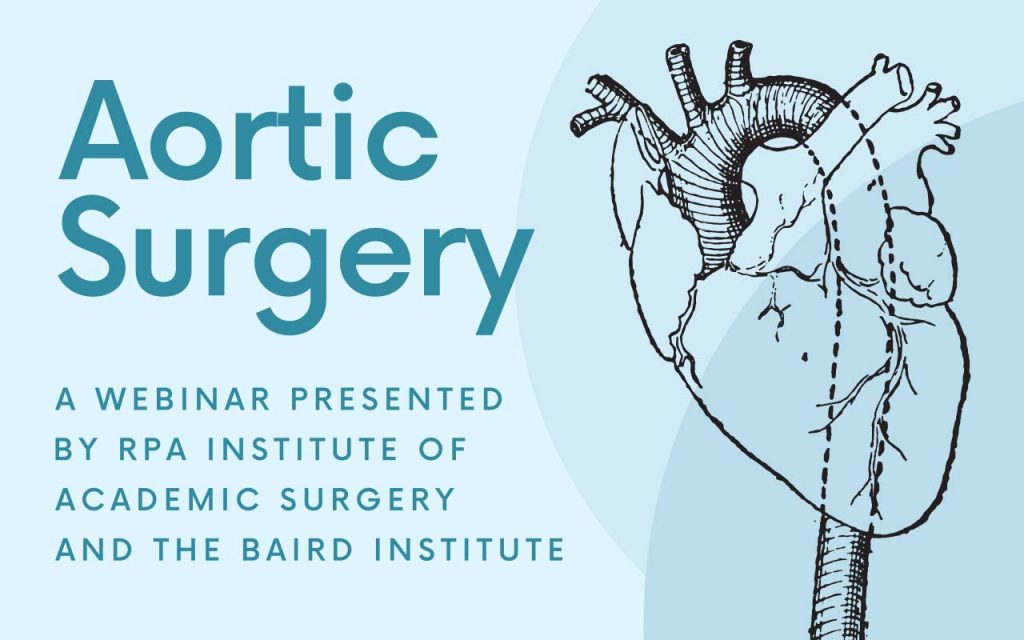 Including classification of dissection, types of aortic aneurysms, case study of emergency vs elective (non-urgent/chronic), clinical presentation in ED/clinic.
Including brief knowledge on surgical techniques, show grafts and valves for replacement and bypass
Including explanations for why chests are left open after procedure and postoperative complications (early signs and symptoms)
2nd Heart & Lung Nurses Education Conference - 2018
What makes a successful education conference? This question occupied us during months of planning leading up to The Baird Institute's 2nd Nurses Education Conference, held on 15 September, 2018.
Obviously, you need speakers who will be dynamic, interesting, entertaining and informative and because The Baird Institute works with surgeons, physicians, academics, nurses and allied health professionals within the tertiary setting, we were able to invite speakers of the highest calibre to be our drawcards for this event. It is so nice to know that these speakers hold us in high regard and gave up their time to prepare and present to nurses on a rare day off. In fact, some of our speakers managed to deliver their presentations and return to a busy clinical workload.
We then organised practical afternoon workshops that would appeal to the development of skills and knowledge for nurses working in intensive care, perioperative and coronary care units and cardiac catheterisation labs. It was such a thrill to hear the buzz of conversation and energy during workshop changeovers, as people spoke about the facilitators and the concepts learnt for emergency cardiac life support, management of chest drainage systems, chest x-ray and pacing interpretation workshops and heart and valve anatomy classes using a wet lab and real hearts (bovine). Again, our facilitators travelled to us on the Saturday, giving up their time and most importantly, sharing their expertise and insights to those present. What made the day so great? Clinicians and facilitators sharing their knowledge and skills to ensure that patients needing heart and lung surgery, have the best care based on research and ensuring that patients are at the centre of our health care.
This conference discussed how research has impacted upon patient survival, quality of care and the implications of this for the nurse. 

Topics included:
Clinical Research by Clinical Nurses – Creating evidence for practice.
Robotics: the future is now!
Aboriginal and Torres Strait Islander Patients – What difference does living rurally make?
Strategies to reduce blood transfusion in cardiac surgery.
ECMO Transport.
1st Heart & Lung Nurses Education Conference - 2015
The Baird Institute's 1st Heart & Lung Nurses Conference focused upon the surgical care of patients requiring cardiac intervention with four rotating workshops to enable small group learning in conjunction with patient-centred care. The day was designed to provide practical and informative updates on the management and care of patients in the perioperative and post-operative period.
The event was held on Saturday 28th November 2015 with the support of The Baird Institute and Strathfield Private Hospital. Nurses from Strathfield Private and Royal Prince Alfred Hospitals participated in the event. Major sponsors for this occasion were Strathfield Private Hospital and St Jude Medical.
The Baird Institute wishes to extend its thanks to Ms. Cassandra Broad who helped organise the day and to the key speakers who made the day such an exciting and informative event. These experts included The Baird Chair and Board members speaking from their cardiothoracic and research expertise, The Baird Institute doctoral fellows and Registered Nurses with expertise in patient care, management and critical problem-solving.
Guest speakers from The Royal Prince Alfred Hospital, Concord Repatriation General Hospital and from St Jude Medical helped make the day a successful and productive event.
Presentations discussed major surgical procedures, complications from cardiac and lung disease encountered during the perioperative and post-operative period and current treatment modalities.
Subject matter ranged from the latest in robotic surgery, use of innovative materials to improve surgical outcomes and advances in technology that improve cardiac surgical techniques.
Four workshops were presented for all attendees to experience smaller group discussion and to have input from radiology, surgery, nursing and trade company specialists. A wet lab was held for pig heart dissection and anatomy and physiology review, as well as chest x-ray interpretation, management of emergent chest re-opening in critical care and the use of intra-aortic balloon pump for patient survival.
The patient voice was heard with a discussion of unanticipated psychological effects of surgery, including the management of depression despite a successful surgical outcome. Mr. Phillip Koperberg spoke about his own personal experiences after cardiac surgery – a discussion which resonated with operating theatre, intensive care and cardiac ward nurses.
Sixty-three delegates were registered for the event from Perioperative Nursing, Critical Care and Cardiothoracic Surgical departments. This presented a challenge for the organisers to ensure that the sessions appealed to the three different areas of expertise in cardiac nursing. Forty-three survey responses were received at the conclusion of the day; a response rate of 73%.
Continuing Professional Development certification (CPD) was obtained through the Australian College of Nursing, providing a professional and documented approach to acknowledging the content delivered to participants. Overall the Cardiac Nurses' Education day was deemed a success by both participants and organisers. It is anticipated that a biennial event will be held and that it will be open to perioperative, intensive care and ward-based nurses.