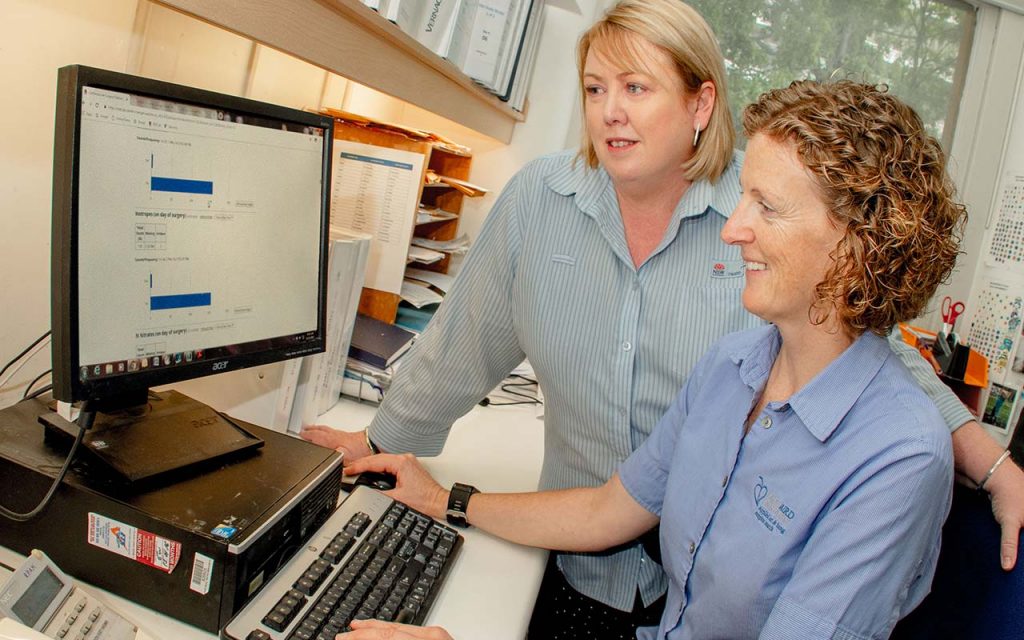 The Baird Institute runs and participates in many clinical trials. We also contribute to the Australian & New Zealand Society of Cardiac & Thoracic Surgery Database through their partnership with Royal Prince Alfred Hospital.
Lisa Turner and Lorna Beattie have over 30 years experience between them.
Lisa has been working in cardiovascular research since 2004.  She is the Cardiovascular Research Clinical Nurse Consultant (CNC) at Royal Prince Alfred Hospital (RPAH). Lorna joined The Baird Institute team two years ago and works alongside Lisa as the Clinical Trials Nurse Consultant (CNC). They have over 30 years cardiothoracic and vascular surgery nursing experience between them. Such experience has equipped them with the essential skills required to manage the many and varied Cardiovascular Clinical Trials and associated databases.
COMMUNICATION
One of the most important aspects of Lisa and Lorna's job is communication, both with and between the patients, staff and medical teams. They are passionate about ensuring patients are well informed about the various research projects relating to their particular surgery. As well. they are given the opportunity to choose to participate in the associated research.
EDUCATION
Education also forms a large part of what Lisa and Lorna do; educating staff on study protocol and ensuring the study teams have a high level of protocol completion and adherence. They also manage patient and staff education in regards to each trial.
CO-ORDINATION
All logistics relating to the trials, are also managed by Lisa and Lorna.  Their tasks include managing the screening, recruitment, data collection and ethics reporting for the trials, ensuring all patient follow-up as well as updating the associated databases for the clinical trials conducted through The Baird Institute and RPA.
Along with all of the above, they find time to assist medical students with MD projects through the University of Sydney.
You can support The Baird Institute by making a once-off donation, leaving a bequest, volunteering time or services, or become a partner providing ongoing support.
Our current and completed trials and registries are listed below:
Cardiothoracic Clinical Trials
Name of Project
Project Status

Vision - Cardiac Surgery
'Vascular events in Surgery patients cohort evaluation – Cardiac Surgery'

Recruitment ceased in 2020 and follow-up is complete. Due to the large amount of data collected, there continue to be data queries. There has been 1 publication with many more to come.

COPOC - A prospective randomised placebo-controlled double-blinded study to assess the role of colchicine in decreasing myocardial damage post cardiac surgery

26 patients recruited to date . Aiming for a total of 204.
Recruitment has been difficult dues to various restrictions during COVID-19

TRiCS IV - Transfusion Requirements in Younger Patients Undergoing Cardiac Surgery
An international, multi-centre, randomized controlled trial to assess transfusion thresholds in younger
patients undergoing cardiac surgery

TRiCS IV follows on from TRiCS III which took place in RPAH in 2015 to 2016. TRiCS III found that a restrictive transfusion strategy was not inferior to a liberal transfusion strategy, other than in a younger population.

CLiP II – Cryopreserved vs Liquid Platelets for surgical bleeding.
A phase III multicentre blinded randomised controlled clinical non-inferiority trial of cryopreserved platelets vs. conventional liquid-stored platelets for the management of surgical bleeding

The pilot study CLiP-1, ran at RPAH from 2015 which tested the protocol for a definitive clinical trial of this technology.
21 patients recruited at RPAH to date.

Thoracic aortic surgery database and tissue bank

Recruiting all aortic surgery patients. Over 200 patients recruited to date

Molecular Studies in Human Hypertrophic Cardiomyopathy Tissue Bank

Recruiting all myomectomy surgery patients. Total 42 patients recruited to date

Cardiothoracic Surgery Biobank

Recruiting patients having Valve surgery. 27 patients recruited to date.

Sydney Cardiothoracic Surgeons Database/ ANZSCTS database export

All cardiac surgery patients
Approximately 550 Patients per year
The database allows for national benchmarking in cardiac surgery but also assists with quality improvement within RPAH
Vascular Surgery Clinical Trials
Name of Project
Project Status

The RPAH Vascular Surgery Tissue Bank and Database

Recruiting patients having carotid and femoral artery surgery to remove plaque and abdominal aortic surgery.
29 patient recruited to date

GREAT - 'Global Registry for Endovascular Aortic Treatment'

81 Pts recruited at RPAH. Follow up only

INFINITE-OUS
'Investigation of femoro-popliteal in situ valve formation with the InterVene System'
The trial is aiming to make a valve in the vein of people who have severe venous insufficiency

Recruited total 3 patients since June 2018.
2 completed follow up.
1 in follow up phase

MAT - The Metformin Aneurysm Trial
An investigator initiated and conducted, multicentre, international, double-blinded, placebo-controlled, parallel-group, randomised controlled trial to determine the effect of metformin on abdominal aortic aneurysm (AAA) associated events, including AAA repair and AAA mortality (due to aneurysm rupture).

1 patient recruited in RPAH to date.
Patients with abdominal aneurysms which do not require surgery within 12 months are recruited.

Prevision - Prospective, Multicenter, Single Arm, Non-Randomized, Study of BD™
Sirolimus Drug Coated Balloon Catheter for Treatment of Femoropopliteal
Arteries

1 patient recruited to date.
Patients undergoing treatment of arterial disease who require balloon catheter treatment of lower limb arteries are recruited.

T2EL - Vascular endothelial growth factor levels in type 2 endoleak requiring intervention.
This is an investigator-initiated study by one of RPAH's vascular surgeons. He is investigating whether biomarkers may explain the behaviour of type II endoleaks

37 patients recruited to date.
Only patients with a type 2 endoleak need to be recruited. The other 2 groups, 1. Patients having an aortic stent, 2. A control group, have been recruited

Understanding Cellular Dysfunction in Atherosclerotic vascular disease.
This is an investigator-initiated study by one of RPAH's vascular surgeons. He is hoping to understand the changes to genes and proteins in atherosclerosis.

27 patients have been recruited to date.
Patients having surgery for removal of carotid or femoral plaque, or lower limb amputation are being recruited

Activate II - Feasibility Study of the Vessel Restoration System (VRS) for the Treatment of Atherosclerotic Lesions in the Superficial Femoral Artery (SFA) and/or Proximal Popliteal Artery (PPA): ACTIVATE II

Trial is awaiting approval to run at RPAH.
Cardiothoracic Clinical Trials
| Name of Project | Project Status |
| --- | --- |
| Frailty assessment in Cardiac surgery | Recruited patients having Cardiac surgery over 70 years of age. |
Vascular Surgery Clinical Trials
Name of Project
Project Status

Chrysalis - A Prospective, Multi-Center, Single-Arm Study Assessing the Clinical Use of the CATERPILLAR™ Arterial Embolization Device System for Arterial Embolization in the Peripheral Vasculature

2 patients recruited at RPAH.
Completed in November 2020 and published in November 2022

Pulse Modulation study The Brain Protection Company Pty Ltd (BPCo) Extravascular Carotid Artery Pulse Modulation Device: First In Human Study

RPAH recruited 2 patients for the trial. Unfortunately, COVID-19 made recruitment and funding difficult. The trial ceased in August 2022.

VERNACULAR - The BARD VENOVO TM Venous Stent Study 'A prospective, Non-randomised, multicentre, single arm study of the treatment of ilio-femoral occlusive disease — An assessment for effectiveness and safety'.

1 patient recruited at RPAH to add to total of 170 internationally.
The trial was completed in 2020 and published in 2021.

ENGAGE - Endurant Stent Graft Natural Selection Global Post Market Registry.

Total of 12 patients recruited with four of those 12 being followed up for 6-10 years.
The 10-year follow-up was completed in 2022.