Alan Pope shares his story
In 2017 at the age of 38, Alan Pope was living in Perth and had an operation while there to remove a cancer from his back.   Following the operation, he underwent regular MRI and CT scans of the chest and was about to move to 6 monthly check-ups, when a radiographer noticed a size differential between his ascending and descending aorta.  He was referred to a cardiologist in Perth who advised that as he had an aneurysm of the aortic root, he would likely need an aortic root replacement. As he had no family support in Perth, Alan moved to Sydney, where many of his family resided.
Alan's aortic root replacement surgery was carried out at Royal Prince Alfred Hospital in February 2019 with Professor Bannon as his surgeon.  Due to his age and the fact that his aortic valve was functioning normally, Alan was a good candidate for a "David Procedure" – a valve sparing aortic root replacement.   This procedure is named after a Canadian surgeon, Dr Tirone David, who initially conceived the operation. By preserving the patient's aortic valve, the need for lifelong anticoagulation therapy is avoided.
6 days post-surgery Alan was discharged from hospital.  He completed his rehab and within a couple of weeks of the operation, he was walking up to 10kms per day.  He has maintained this regime and is benefiting immensely from the exercise and the weight loss.
Apart from high blood pressure, Alan had no indication that he might have an issue with his heart, however, when asked if he notices a difference now, he commented that he did not realise how much of a struggle it really was before! Professor Bannon explains that it is as a result of research that we are able to decide when the best time is to operate on patients with an aortic aneurysm BEFORE the aorta dissects.  When dissection happens a person's chance of survival is greatly diminished. Thanks to the support of our donors and their investment in our research, the mortality rate for people with an aortic aneurysm has significantly reduced.
Alan comes from a family with a history of aneurysms.  In 1955, doctors found a dangerous aneurysm on the abdominal aorta of his great grandfather, Mr Leslie George Neale, and so at the age of 66 his grandfather underwent the first operation of its kind.  Because there were no artificial aortic grafts in 1955, a suitable donor graft from a deceased person's abdominal aorta had to be found. Many hours were spent planning the operation.  One of the major concerns was how to keep Alan's grandfather alive for the 12 or 13 hours required for a grafting operation of this kind.  After he was given his anaesthetic, Mr Neale was wrapped in ice until his body temperature dropped to 29 degrees. The purpose of doing this is reducing the body temperature greatly reduces the body's need for blood. The diseased part of the artery was removed, and the donor graft was put in place.  The operation lasted 12 hours.
In 1989, at the age of 42, Alan's father, Leslie John Pope, also had an aneurysm and suffered an aortic dissection in the posterior wall of the ascending aorta.  Alan was just 10 years old and was watching his father replace a gear box under the car when it happened. Alan's Dad asked him to go and get him a cup of tea but when his father stood up, he collapsed. Paramedics were called and he was rushed to Prince Henry Hospital in Randwick.  He required a total aortic root reconstruction along with aortic valve replacement surgery and received a synthetic graft (made of Dacron). He was discharged from hospital almost a month after his operation.
The type of surgery that Alan himself had would not have been possible in 1955 as the heart-lung machine was not in widespread use until 1964.  In 1954 the machine was introduced into Australia and was used at Royal Prince Alfred Hospital with children, however its use with adults did not commence until 1957.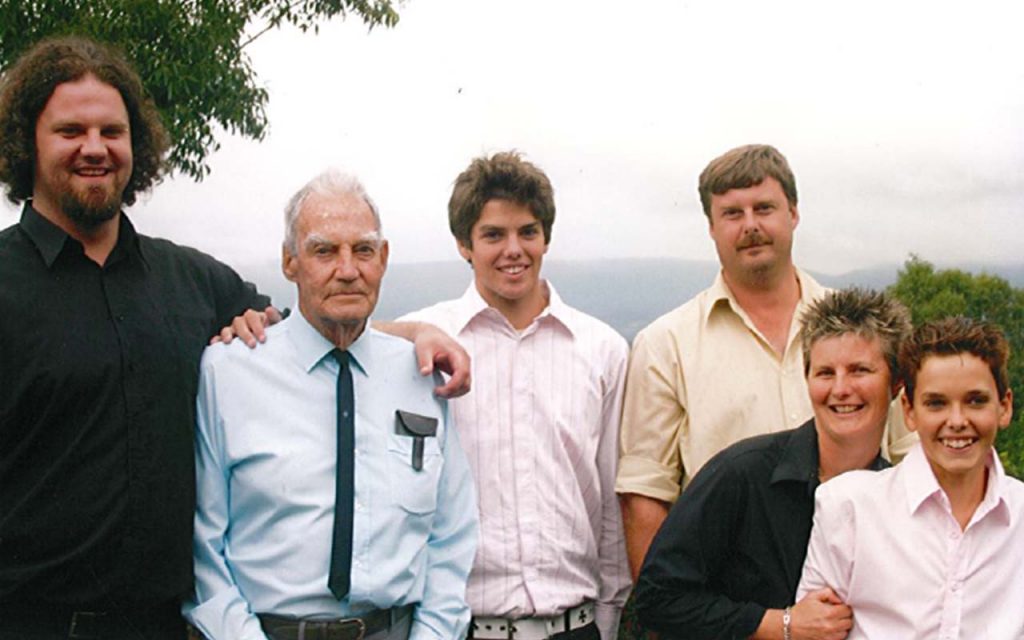 When Alan's grandfather was operated on in 1955, as the heart-lung machine was not available, the only way to do his type of surgery in the safest way possible at the time, was to cool the body down by putting the patient on ice.  The mortality rate for this procedure was 50%, whereas now due to the heart lung machine, the rate of mortality for Alan's David Procedure at RPAH is basically 0% for elective patients (those patients choosing when to have their surgery as opposed to those who come into the emergency department as a result of a cardiac arrest or an aortic dissection) while the mortality rate for a standard aortic root reconstruction is .5%.  Significantly different procedures and mortality rates, 65 years apart.
Today, the length of stay in hospital is vastly different for those patients who have elective aortic root surgery (as Alan and his grandfather had).  Patients are admitted to hospital on the day of their surgery and are discharged 6 or 7 days later.  Leslie Neale in 1955, on the other hand, was in hospital for one month which was commonplace at the time.
Aortic dissections would not have been operated on back in 1955 when Alan's grandfather was alive, so Leslie was fortunate that he did not suffer a dissection.  In 1989 when Alan's father had the dissection, approximately 50% of patients would not have made it to hospital in time and for the ones that did, the mortality rate would have been between 30 and 40%, with the best cardiac units getting that rate down to around 25%.  Today we have managed to reduce that figure to about a 10% overall mortality rate for surgeries post an aortic dissection, as a result of the development of more refined strategies for dealing with the complications of a dissection.
Furthermore, we have been more aggressive in our treatment than previously, we carry out far more extensive surgery to prepare for future problems and there have been significant improvements in surgical strategies which have vastly decreased the operative risk.  Finally, our research has enabled us to predict people's risk of dissection and therefore decide when the optimum time for surgery is. Alan's surgery is a case in point, we operated on him before he dissected and with the support of you, our donors, we hope in the future to be able to avoid the passage of this disease onto the next generation.
Alan has a young family himself and, especially with his family history of heart problems, he is telling his story for them.  He is keen to raise awareness and funds to provide more research into aortic aneurysm disease, so that other families do not have to go through what he has endured.  Operating techniques have changed dramatically since the 1950s and the funding of our supporters has enabled significant innovation and improvements.