Former patients of the namesake of our Institute, Professor Douglas Baird, who passed away in November 1995, tell of a caring and humble man without pretension but with great skill and expertise.  As our Patron, the Honourable Michael Kirby, described him, "a very modest man, very unassuming, but very brilliant".
Enid Eyles
In December 1989 I arrived in Kathmandu, Nepal, with close friends to go trekking, having been there previously in the early 1980's. We were doing the Helambu Circuit Trek, a relatively low altitude trek with beautiful scenery. For me it was a night-marish experience. The descents were relatively easy but for every descent there seemed to be at least two ascents. They were extremely taxing, and I lagged seriously behind my companions. I was breathless and had to rest very frequently. On our return to Australia my friends told me they had fears of bringing me home in the proverbial green bag.
I returned to work but was hesitant to go bushwalking. Eventually one of our fellow bushwalking group, suggested I might have a heart problem. This thought was strengthened when my blood pressure couldn't be taken because of a very erratic heartbeat. In 1993 I was referred to a cardiologist, who ascertained that I had rheumatic heart disease.
Nearing the end of 1993, I had to rest several times between the station and my workplace and a decision was made for me to have a mitral valve replacement. In early December of that year, I was admitted to Strathfield Private Hospital and Professor Douglas Baird replaced my mitral valve with a mechanical valve and repaired my aortic valve, which had also been damaged.
After convalescing with family in Orange I returned to Sydney for my post- operative visit to Professor Baird. He pointed out to me that at that time, we were the same age and that there could be no more trekking in Nepal or for that matter, trips to countries that were considered third world. I should look to New Zealand if I wanted to go adventuring. It was my final visit to Prof. Baird and I felt dispirited but comforted by his humanity and his almost fatherly approach to telling me I had to look to gentler, safer pursuits.
My life went on as normal and in 1995 I learnt that Professor Baird had very sadly died, well before his time and at the peak of a brilliant career. I could not believe that the man who had given me a new lease on life had lost his own through one of the scourges of our time – cancer.
In 1996 I attained the statutory age of retirement for women – 55 – and retired. Because of my yen to travel in exotic places, in 1997 I started on two decades of travel to many places which are now destroyed or too unsafe to visit. I have visited Uzbekistan, Iran, Jordan, Mongolia, Morocco, Oman, Syria, East and West Turkey and Yemen. I have found people everywhere to be kind, helpful, interested and hospitable.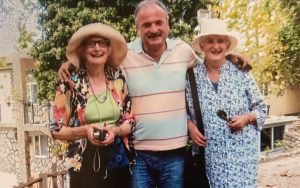 In 2017 I went on my last visit to Iran. During this trip I realised that my aortic valve was slowly becoming more diseased. My travels were going to come to a halt, just before everyone was grounded by COVID.
In February of this year, 2021, just before my 80th birthday, my aortic valve was replaced using the TAVI (Transcatheter Aortic Valve Implantation) process. I am well, beyond belief, and I am sure that if Professor Baird were still alive, he would be very proud of the RPA cardiothoracic team. I owe them an enormous debt and hope that through monies raised by The Baird Institute they will be able to fund more ground-breaking cardiothoracic research.
I can never sufficiently thank Professor Baird for his skill and expertise in giving me a second chance to live the life I aspired to, especially as he was denied such an opportunity. While my gifts to The Baird Institute are meagre, I am so grateful to be able to give at all, in exchange for the gift of "new life" that I was given in 1993.