It is fair to say that a Thoracic Aortic Aneurysm is a Great Masquerader. It can destroy any vessel to any organ in the body, with a single stroke. Of course, it can cause aortic rupture and death. This is the reason an 'aneurysm' has historically been perceived as the 'old demon' in the surgical literature.
The Royal Prince Alfred Hospital (RPAH) is a major referral hospital and is recognised for its excellence and innovation in aortic services.
The RPA aortic surgery program was initially set up by Professor Cliff Hughes, who was one of the first surgeons to do the Bentalls' procedure in Australia. The aortic program has since been strengthened and expanded under the leadership of Professor Paul Bannon, who is recognized internationally for his surgical expertise in aortic and complex root reconstructive surgery.
Vascular surgeons, Professor Jim May and Dr Jeff White were excellent surgeons and trainers of generations of surgeons in this country, who provided outstanding service at RPAH. They were responsible for the introduction of endovascular surgery in Australia, and both had outstanding international profiles in this discipline.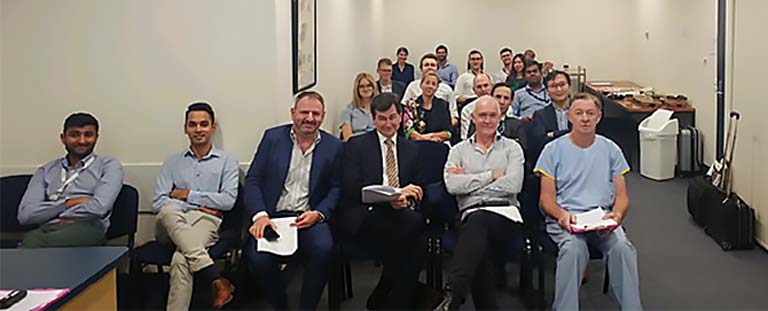 There has been a tremendous evolution in both cardiac surgery and vascular surgery over the years. There is a greater appreciation now, that when we are talking about treating any complex diseases, we need to get away from defining ourselves by the specialties that we are in, and really direct our focus towards how to treat the patient in the best possible way and to achieve the best patient outcomes.
There has been a trend to subspecialize within both disciplines to focus on "aortic interventions" and the task has fallen on the "Aortic Team" to explore both surgical and endovascular options for our patients in a collegiate multi-disciplinary team (MDT) environment. It really requires this MDT to review these complex cases together. At the MDT meetings, different pathologies such as thoracic or abdominal aortic aneurysms, aortic dissection, aortopathy and graft infection are discussed and various treatment options such as open, hybrid, endovascular and medical therapy are recommended.
With the introduction of endovascular aneurysm repair, using stent grafts has resulted in a major paradigm shift in the field of aortic surgery. It's true that the technical details and risk profiles vary greatly between the two, but the principles remain the same. A successful aneurysm repair depends on either open replacement or endovascular exclusion, with healthy segments of artery proximal and distal to the repair. In addition, aortic arch and visceral segments and chronic dissections, add layers of technical complexity to aneurysm treatment.
Even though endovascular repair has become the principal way of dealing with most aortic aneurysms, open repair remains an essential treatment in many circumstances. We consider open surgical treatment to be beneficial for those young patients who have good performance status for better long-term outcomes and for treating patients whose aortic disease has genetic causes. Finally, for those patients for whom previous attempts at endovascular repair have failed, surgical approaches to device removal and definitive repair are becoming increasingly necessary.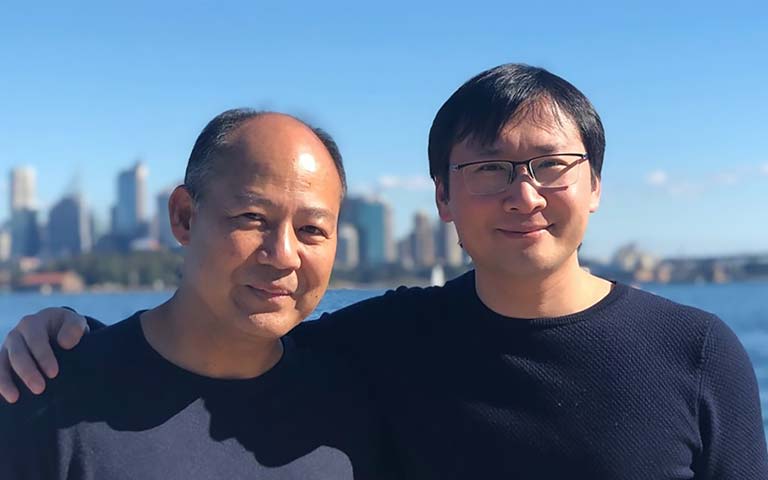 I had the privilege of learning under the guidance of Professor Aung Oo as his aortic fellow. He is a world-renowned aortic surgeon, particularly known for open thoracoabdominal aortic repair. Prof Oo was originally the head of aortic surgery at the Liverpool Heart and Chest Hospital but he moved to St Bart's, London to set up a second aortic centre in the UK. One of the most important lessons that I have learned from him is that you can certainly succeed with good colleagues and limited resources, but you cannot succeed with poor colleagues and great resources. You never hear him raise his voice and everyone listens to him attentively when he speaks. He recognises the importance of unified teamwork and that the key is to have a shared vision.
Indeed, a big part of this, is to build a team with a purpose and a shared vision.  For us, this shared vision is to establish a thoraco-abdominal aortic (TAAA) program at RPA.
With that in mind, Dr Raffi Qasabian, Dr Stephen Llewellyn, our senior cardiac anesthetist, and I went to Barts Heart Centre, based at St Bartholomew's Hospital in the City of London, to see how their aortic service operates and functions.  Over the subsequent two years, we also invited Professor Oo to Sydney to guide our RPA Aortic team, as it was very clear to us that the success of a TAAA program is very much dependent on the overall growth of the team.
We have now formed a strong RPA aortic team. The team consists of 2 cardiac surgeons and 3 vascular surgeons, specializing in aortic surgery; 5 cardiac anesthetists/perfusionists, 2 neuromonitoring anesthesiologists, and 2 cardiologists, specializing in aortotopathy and connective tissue disorders. We have monthly aortic MDTs and Marfan clinics. All aortic tissues are stored in the heart bank and we have the largest aortic database with more than 20-year follow up.
Together, not only do we need to train surgeons to master the craft of aortic surgery, but perhaps more importantly, we need to take one step further and train the future generation of surgeons on how to work together throughout their career.